White-Label Software:
Benefits and How to Choose the Right Solution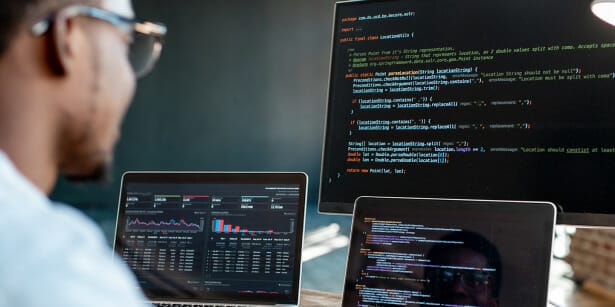 Imagine contacting a doctor and asking for his advice because you have been struggling with back pain for weeks. He identifies a pinched nerve as the cause of the pain, prescribes a painkiller, and sends you back home. With nothing to change the cause, your only next step is to start researching what else you can do: if and what kind of physical therapy would be appropriate, and if there are exercises you can do yourself to relieve the discomfort.As a result, you see a second doctor. He not only pinpoints the pinched nerve as the source of the pain but also recommends a physiotherapy program that many of his patients have had good experiences with. He also suggests exercises to do at home and asks you to come back if it is not better in a week. Which doctor will you go to again next time? In most cases, probably the second one, simply because he really helped you with a more researched and thoughtful approach.

This is not just something people encounter at the doctor's office. No matter if they are Law firms, Accounting firms, or consulting companies, whether they serve enterprises or individuals, service providers have to go the extra mile in order to retain customers in the long term. If they don't, ever-increasing competition leads to the real risk of customer loss that is higher than ever.

As digitalization continues to advance, technology solutions have also increasingly become the focus of attention. In addition to consulting, companies are determined to equip their customers not only with advice and direction but also with the implementation of the latest applications in order to execute. In this context, the term "White-Label Software" is gaining growing popularity.
In general terms, White-label or 'Private Label' software is a type of software that is delivered as an extension of your company's services and brand. Organizations can buy ready-made applications to use under their own brand in a variety of ways. SaaS platforms, in which program rights are leased or licensed over a subscription period, are on the way. Collaboration with a third-party service is another option. This has become a common practice for Accounting and Law firms, Management consultants, and other comparable businesses that provide more tactical support to their clients.

Private labeling has been widely accepted as a standard procedure. Ranging from digital marketing platforms, email programs, website builders, and many, many more; the solutions are versatile and often the right for businesses that do not want to risk the budget, time, resources or focus required to create sophisticated software, from the ground up.

This blog post elaborates on the benefits that white-labeling offers. It also discusses various factors companies should take into consideration when choosing a provider.
What are the Benefits of White-Label software?
There are several reasons why private label software can be advantageous for businesses:
Developing software from scratch takes time, and often more time than companies have to focus on developing software. By using a white-label services provider, they can get high-quality development quickly and without risking desired outcomes.
The process of creating an operating system is not only time-consuming but also expensive. Private labeling allows organizations to avoid many costs as they pay for the customization of an existing product.

At ELASTECH, we have conversations with many executives who swear that the best way for them and their business is to keep everything in-house, only to then realize that their software development efforts exceed their budgets more quickly. Once they recognize this, many now choose to evaluate time commitments as well as total costs more critically, realizing that they can rarely commit to a significant amount of both time and budget to achieve success. Whether they are unwilling to do so or just lack the resources needed, a private-labeled solution is a proven option, just as it can be for you.
White-label solutions can offer more flexibility, which gives companies the opportunity to tailor requirements exactly to their needs and the needs of their clients. This often enables organizations with a path to increase productivity and efficiency.
Another significant benefit of white-label software is that it allows businesses to scale their operations quickly and without much internal effort. Especially in rapidly growing industries, this is a major competitive advantage.
White-label software is developed by experts. This guarantees a higher level of quality, minimizes the risk of code-based errors and ensures operations run smoothly, freeing companies to focus on their core business opportunities.
Time-to-Market is a Sprint
Imagine you have a great idea of how to improve one of your company's workflows to give you a competitive edge. Maybe you want to use modern software to automate an important task that does not require critical thinking by a real human being to execute. After several conversations with your executives, you gain the needed support and approvals for the project. Before the development starts, the in-house team needs time to get familiar with the technology. In the course of the development process, delays occur again and again due to unexpected errors. After more time has passed and you are around 80% ready, you learn that a competitor has invented a similar product, rendering your idea obsolete. These scenarios produce a lot of frustration and many companies have experienced this cycle repeatedly.

Given the ever-growing competition across industries, being first to market has become vital in creating a competitive advantage. When developed by real experts, operating systems for private-labeling purposes are often available in a much shorter time frame, delivering enterprises the edge they need.
Enhance your Customer Experience
A white-label solution can also help you enhance customer experience. and supply clients with a product that is specifically tailored to their needs and specifications.

Going back to the example from the introduction, white-label offerings enable you to be the service provider who not only consults and recommends strategies and solutions but also offers the needed execution to deliver benefits. This delights customers and makes you an indispensable partner, opening additional pathways to enhance and expand client cooperation and loyalty.
Providing clients with white-label software is a proven method to improve satisfaction and provides you with a significant competitive advantage.

Taking Accounting as an example, we often see that many firms have lost their clients to one of the Big Four, simply because these larger firms offered technical services and support for their modern software solutions. Unfortunately, many firms have not recognized that working together with a private label application supplier can get them to where they can effectively meet client needs and successfully compete with these large firms and win.

At ELASTECH, we have proven.. With the right partner, businesses can offer their customers such powerful modern software solutions that they no longer need to give any active thought to competitors' offerings.
How to choose the right White-Label Software for your Business needs?
Now that we've gone over some of the benefits of white-label software, here is what companies should look for when choosing their solution:
Having successfully worked on more than 1,500 projects, we know that some executives find difficulty transitioning a portion of their work from in-house teams to a third party. We help get all stakeholders onto the same page when deciding to work with a white-label provider. Otherwise, conflicts of interest and political or philosophical disagreements can lead to frustration on either side, jeopardizing the overall goal: Completing the project successfully.

When are you ready for private label applications? ..As soon as you realize that:

– You don't have the right in-house expertise to get the job done
– Your company does not have or is not willing to invest in developing the resources to enhance your tech practice
– The development process is taking too long and delaying your strategy or execution
– The in-house developed products don't satisfy you or your clients
– You are outpaced by competitors because, unlike you, they are able to supply their customers with modern software solutions
After it becomes clear that white-label software should be the way to go, it's about selecting a provider. It is critically important to choose proven experts. This means that they have successfully delivered private label solutions to other companies in the past. In our experience, a good software development company will have a solid team delivering successful projects. Have you ever worked with companies who were eventually unable to deliver exactly what was committed to, causing headaches and sunk costs without the desired outcome?

We find that this is one of the most decisive factors to consider: Finding an organization that can deliver with the right expertise and experience. We strongly advise assessing the quality of the actual product, which is the software. One size does not fit all when it comes to white-label programs. The quality of the code can differ greatly between providers. It's critical to find a source who writes clean, well-organized code since this sets the foundation for long-lasting operating systems that make future upgrades and adjustments easier.
The Needs of Your Company and Your Clients
It is important to evaluate the specific needs of both your company and your clients. Only then can you make sure that you choose a solution that is truly beneficial for all parties involved.

To ensure this, we find that constant feedback is needed from all stakeholders:

– From your sales team and consultants who are in direct contact with the clients, having a clear
picture of what they desire
– From your (or your client's) IT department as they are often in charge of integrating and maintaining the systems
– The executives and others involved to ensure that processes and actions are aligned with overall business goals.

This effort is the key approach for private label software to deliver its full potential.
Whether you provide consulting to other businesses or professional services, if you are unable to offer a sufficient tech practice to enable your clients to execute, you have a direct opportunity to profit from your existing relationship and build the value of your brand.


Along with increased flexibility and the ability to scale, it is an efficient, resource-effective approach to serving your clients. With the right partner, you can ensure that your customers get fast and reliable solutions that drive real impact. By delighting them, you will eliminate the need for any client to look outside your company, achieving real competitive advantage.


We hope this blog post was helpful in giving you a better understanding of white-label software, its benefits, and what to evaluate to find YOUR right solution. If you have any questions, please reach out to us and it will be our privilege to serve you.


At ELASTECH, we have an enormously successful history of serving customers with modern software solutions for over a decade. For both web and mobile, we develop enterprise applications and white-label them, as well as deliver full-cycle development services to help you get your project up and running On Time, On Budget, and with No Surprises.


We invite you to a conversation with an expert to help you identify the best ways to serve your clients and build the value of your brand. Schedule a call here.
Book your free appointment with a Technical Expert
How companies need to play in order to win the war for telent